Numata ruins of a castle park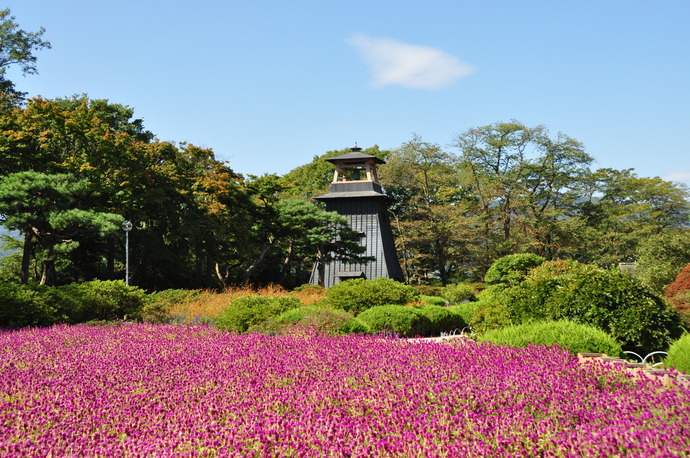 Numata and Numata castle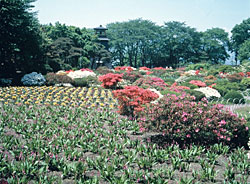 Numata-shi is located in the northern part of Gunma, and river terrace that is very high around the Tone River and thin root river, Katashina river develops around basin among mountains in every direction.
What built castle on plateau on cliff with Numata Park first is told that it is the time of (1532) in 12 daimanonisaikentai (bankisaiakiyasu) of Numata (marsh help) who was influential person of this area in the astronomy (tembun) first year since the Kamakura era.
Because there is this castle which was also called Kurauchi (Kurauchi) castle in the ground of strategic point reaching Kanto, the busy struggle reels, and it will be opened by war-torn country daimyos such as Uesugi of Echigo and Hojo of Odawara, Takeda of worth.
Masayuki Sanada (sanadamasayuki) who advanced to Numata by (1580), life of Katsuyori Takeda for Tensho era (tensho) eight years captured Numata castle and let we murdered Heihachiro view justice (Heihachiro smell and is good) that did the next attack for recapture of Numata-jo Castle more for nine years, the following day, and Numata ruin.
However, the offense and defense continued between Sanada who did not accept this with Hojo who insisted on possession of this ground visiting Numata-jo Castle, but it was at opportunity, and, after this, as for Hojo, it was ruined by Odawara-jo Castle attack of Hideyoshi Toyotomi that Hojo captured excellent walnut-jo Castle of Sanada (nagurumijo) illegally in (1590) for 18 years.
Hideyoshi had relief (relief) of Shinano 2 county and former territory of Tone, Azuma for Masayuki Sanada, and Masayuki gave Nobuyuki (Nobuyuki) of legitimate child Numata castle, and he moved to Shinano country (shinanonokuni) Ueda.
Sanada and Numata castle
Nobuyuki who became the Sanada first generation Numata lord of a castle of 27,000 koku starts maintenance of-like castle in the early modern times, and he is told that castle tower (tenshu) was completed after building (fushin) of outworks of a castle, outermost outworks, moat, fieldwork, Daimon in (for another view 12 years) in Keicho era (keicho) 2(1597) year.
In the castle tower constructed near current bear hut, scale is found "to have been fivefold" with "nine ken (ken) of ten ken" (ken) from castle illustrated map and ancient documents which we submitted to the Shogunate.
Sanada ruled Numata territory afterwards for Shinkichi (Nobuyoshi), 3 daikumakorejo (bear be not crowded), 4 daishimmatsurigoto (Nobumasa), 5 daishinri (nobutoshi) and about one century for two generations, but 5 daishinri did *de of Edo Ryogokubashi (ryogokubashi) material in (1681) November in the Tenna (tenna) first year, and, in the site of a castle, it was the confiscation, attainting (we can buy and come) under the name of delay and misgovernment. Castle was evacuated by the Shogunate, and all the castles were destroyed for two years, and moat was filled, too.
The later Numata castle
After Sanada attainting, the old Sanada territory became Imperial demesne (tenryo), but (1703) Masanaga Honda (hondamasanaga) was ordered Numata castle revival by the Shogunate for Genroku era (genroku) 16 years and did nyufu with 20,000 koku.
However, as for the full-scale revival of castle, construction of maintenance and fieldwork of moat filled up with castle destruction was performed without doing, and it was chief administrator rule again after Honda three generations, and (1732) Tadakuni Kuroda (kurodanaokuni) did nyufu with 30,000 koku afterwards for Kyoho (we report today) 17 years and continued for two generations.
Yoritoshi Toki (we do from time) did nyufu at 35,000 koku in (1742) for Kanpo (kampo) two years, and Toki invited the Meiji Restoration in 12 dai*chi (we get up more), and, in Numata-jo Castle, it was abandoned castle. Although residence of a lord was constructed after Sanada attainting by outermost outworks, castle tower might not be constructed again.
Taminosuke Kume (kumetaminosuke) (Numata-shi honorary citizen) who was (1916), child of old Numata clansman regretted the dilapidation of site of a castle in 1916 and cast materials and purchased and maintained as park and was donated to Numatacho in (1926) in 1926.
Current Numata castle
It is a part of Sogawa (we measure up) main enclosure and sutekyokurin (we do) and a part of the outworks of a castle, the outermost outworks trace now in site of Numata elementary school and Numata girls' high school at Numata Park (some cities designated historic spot).
The west oar stand (whether we do, and it is tower) and stone wall, a part of main enclosure moat are seen in main enclosure trace and slightly keep trace of castle. Bell tower (shorou) which we have ever used in Numata-cho is restored, and reproduction of castle bell (josho) (prefecture-designated important cultural property) that Nobuyoshi Sanada let you cast is used for main enclosure trace now. To the outworks of a castle trace, hall is removed and rebuilt in former Toki's house (we come) European-style building of registered tangible cultural properties of person of old life (it is naive, or cook) house (country-designated important cultural property) and country, former Japan Christ (Christ) religious community Numata church round of the twelve horary years.
Bell tower (shorou)
It is "bell tower" that was built in former Numatacho office site in 1899 (Meiji 32) so that preservation utilizes "castle bell" which followed fate of ups and downs by destruction of castle while we pray for peace and security in the territory in 1634 (Kanei 11), and it is cast by Nobuyoshi Sanada.
It was got close to citizen as "time bell" (whether one of time) until we were demolished by the city hall reconstruction in 1964 (Showa 39) and was restored in Numata Park in 1983 (Showa 58).
"Castle bell" catches designation as important cultural property of the prefecture on March 30, 1954 (Showa 29), and reproduction is used now.
Related information
We value your comments.
Inquiry
about this page
Person in charge of Education Department cultural assets Social Welfare Section cultural properties protection
〒378-8501 888, Shimonocho, Numata-shi, Gunma
Telephone: 0278-23-2111 fax: 0278-23-7566
Inquiry, please use exclusive form